DIGITAL AGENDA
The best way to be always communicated between us is through the agenda. At TIPI KINDER we use Tyra, where you will be able to find all the day-to-day information of your little ones.
The kinderclose application allows you to have a bigger knowledge of your child in your mobile phone and even receive photos of your children. In addition, the application gives you the possibility of making a yearbook at the end of the course to keep it as a souvenir.
DINNING ROOM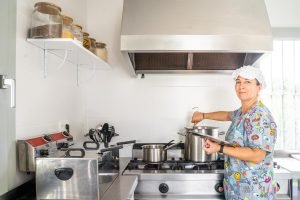 We have our own kitchen; the menus are daily prepared by our chef Loli.
UNIFORM
The use of uniforms in TIPI KINDER is mandatory throughout the year.
Our summer uniform consists of two pieces: Bermuda shorts and short sleeve polo.
The winter uniform is a two-piece sport uniform and a long-sleeve polo shirt.
Backpack
Both uniforms can be purchased directly from the school.
Material:
PROFESSIONAL LAUNDRY
TIPI KINDER helps families in the daily organization. Among its services to families we include a laundry service that will take care of cleaning bibs, sheets and blankets.
SCHOOL CONTINUITY
TIPI KINDER students have a continuity educational project that starts with us from 4 months to 3 years and continues until they are 18 years old at school.
A meeting?
Please do not hesitate to contact us to solve any doubts
TIPIKINDER
We all work with great dedication so that each child enjoys and be happy while learning, our pillars are:
CONFIDENCE
We take care of our families; we support and accompany them during the three years that the children are with us. We like that we are in close collaboration working together towards the education of the little ones.
ENJOY
We focus on the children so they enjoy while they are at school. This is the basis for them to learn. Therefore, we put ourselves at their height and look out for their needs so that they stay calm and feel loved.
RESPECT & EMPATHY
We put ourselves in the child's place to see everything from his point of view. We respect his space of development and we understand and accompany them.